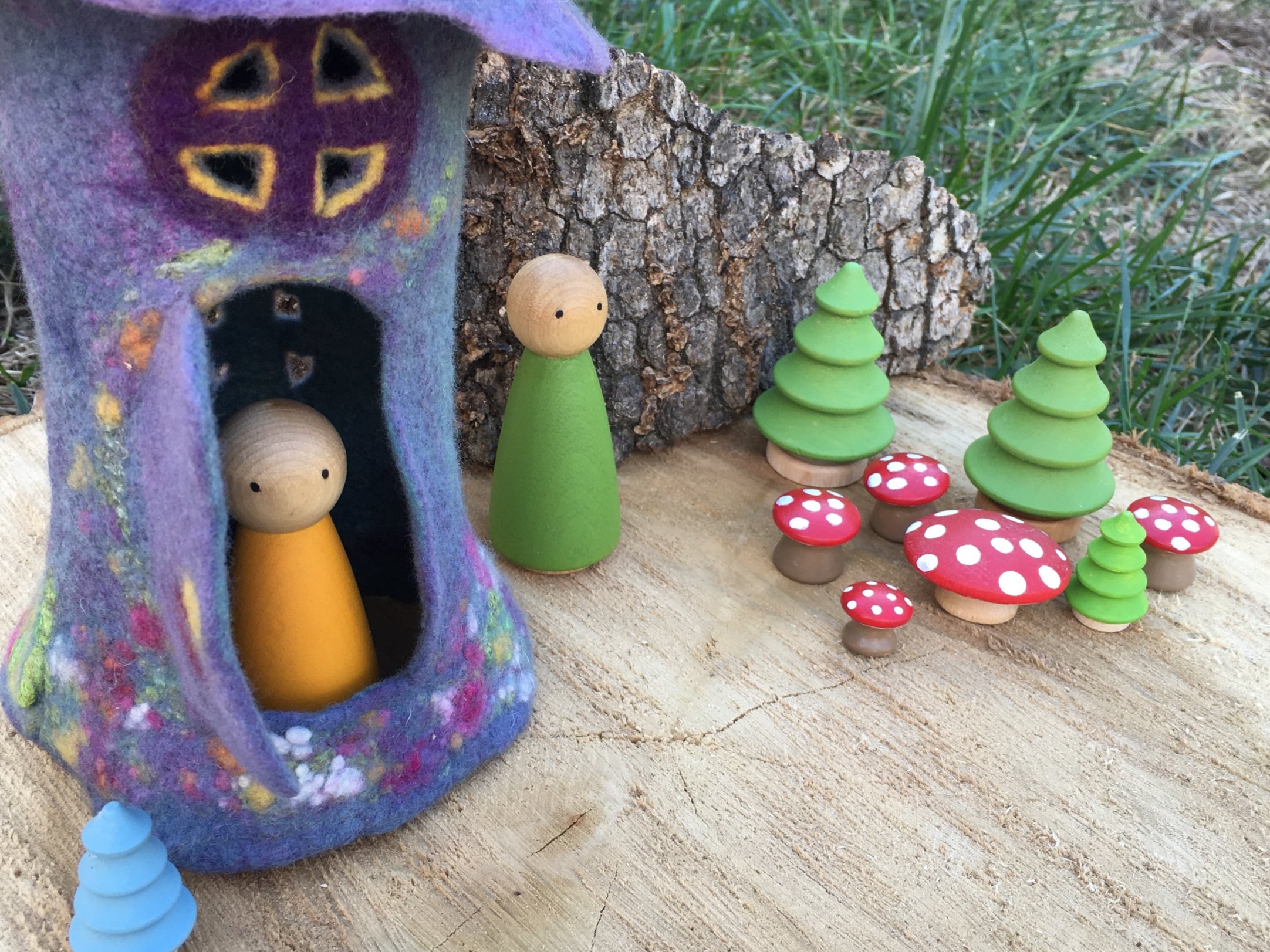 Each item we carry is inspired by nature and created for imaginative play. Our felted playthings are made from wool and other fibers which add texture and shimmer. Our wooden items are painted with non-toxic paints and finishes. Given that our products are handmade, each is unique and may have small variations from what is pictured. We also do custom orders. Please contact us with your requests.
Our play mats are suitable for children of all ages. However, we do not recommend the small figures for children under 3 years of age.
Connecting Storytelling and Play
Storytelling and play have a special relationship. Each supports the other. Just listen as children play and you will hear their stories. We believe our products will help foster that connection.
A good story has a beginning (sets the stage), a middle (a problem or conflict arises), and an end (a resolution). Retelling stories in play or creating new ones, allows children to become "storymakers" - making stories come to life. As children practice their stories, their oral language skills develop and literacy is enhanced.
Providing inspirational playthings is how the adults can help this process. We strive to provide playthings that are natural, open-ended and inviting. We hope our products serve the imagination of the child and rekindle the child within every adult!
Our Felting Process
Felt is made from a magical alchemy of wool, hot water, soap and friction. A design is created with wool and other fibers (silk, bamboo, etc). We then wet it thoroughly with warm, soapy water which opens up the scales on the wool fibers. After that, our goal is to make those fibers close up and tighten. So we rub gently and then more firmly, followed by rolling and tossing. This can take 2-4 hours depending on the kind of wool, the size of the mat, the complexity of the design, etc. As the fibers become enmeshed the wool also shrinks. (Think of a wool sweater accidentally put through a wash cycle.) Once the wool is finely felted we rinse, shape and dry it. And voila - a new mat is ready for hours of creative play!
We're Alice and Barbara Ann, co-founders of SHEEP IN A TREE. The products you'll find here, made from wool and wood, invite children to engage in open-ended, imaginative play experiences. They are inspired by nature and handcrafted for endless hours of creative play. While our products are designed for children, we hope that Sheep in a Tree will inspire the child in you, too!
We have been dear friends for more than 35 years. Our love for creating imaginative playthings began with our own children and now extends to our grandchildren. Much of our inspiration comes from the Waldorf, Reggio Emilia and Montessori traditions. Truth be told, we love playing as much as any child! After we create a mat and our figures dry, we can't wait to set up a little play ourselves.